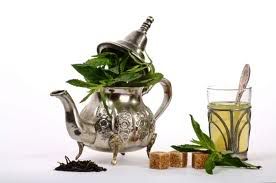 Until recently I had never drank peppermint tea made with loose leaves. And honestly, I will probably never go back. The freshness of loose peppermint tea cannot be denied. When I open the can of
Mint Medley
, from The Persimmon Tree Tea Company, I feel as if I stepped into a garden of peppermint leaves. It is a perfect blend of organic peppermint and spearmint leaves grown in the US.
Mint Medley
has become a favorite and I find myself reaching for this tea tin almost everyday. It is great for on-going nausea. The health benefits are endless. It relieves muscle aches, headaches, migraines, stress. And now that it feels like someone is sitting on my chest and I have a mean cough, I'm sure it will help to relieve some of this congestion in my chest.
Mint Medley has been in my tea cup more than any tea as of late. It has really helped with my winter cough and congestion related to this bout of pneumonia.
You can read my full review on The Persimmon Tree Tea Company mint teas.